MEDIA NEWS
Russ Baker, award-winning investigative reporter, received a 2005 Deadline
Club award for his exclusive reporting on George W. Bush's military record. His new book is "Family of Secrets: the Bush Dynasty, the Powerful Forces That Put It in the White House, and What Their Influence Means for America".
---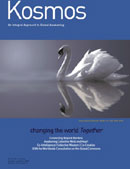 KOSMOS - Leading International Journal for planetary citizens committed to the birth and emergence of a new planetary culture and civilization.


Link TV broadcasts programs that engage, educate and activate viewers to become involved in the world. These programs provide a unique perspective on international news, current events, and diverse cultures, presenting issues not often covered in the U.S. media.
MoveOn.org
Political Action and Information.
New York Times - Free e-mail news.