---
CAMPAIGN FOR A
UN PEOPLES ASSEMBLY
CURRENT NEWS
3rd Inter-generational Model UN - San Francisco State University
Saturday, October 19th - 9am - 5:30pm
UNA-USA's 70th Anniversary Reception (5:30-7:30pm)
International Meeting on a
UN Parliamentary Assembly 2013
Brussels, 16-17 October 2013
Organized by the Campaign for a UN Parliamentary Assembly in collaboration with the Union of European Federalists. Hosted by Jo Leinen MEP, Graham Watson MEP, and Elmar Brok MEP.
Breakthrough in U.S. Congress for UN Parliamentary Assembly
- Democratic World Federalists News
March 25, 2013
ARTICLES AND COMMENTARIES by René Wadlow
President and Chief Representative to the United Nations Office at Geneva of the Association of World Citizens.
Citizen Diplomacy : Russia and the Gorbachev Years (1985-1991) - 8-6-13
Garry Davis: « And Now the People Have The Floor » - 7-26-13
Korea : Challenge and Response - 4-19-13
Citizens of the World Welcome the Decade for the Rapprochement of Cultures - 3-13-13
Earth Summit: Rio Plus 20
United Nations Conference on Sustainable Development
4-6 June 2012 - Rio de Janeiro, Brazil
Past Articles of Rene Wadlow

CAMPAIGN FOR A
UN ASSEMBLY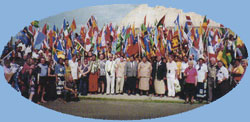 Campaign to Establish a United Nations Parliamentary Assembly
www.unpacampaign.org
"Empower the United Nations with the Voices of the People" through MySpace.
"Voices of the People"
BLOG
Share your Opinions,
Thoughts, and Ideas with others.
GLOBAL ASSEMBLY
DIALOGUE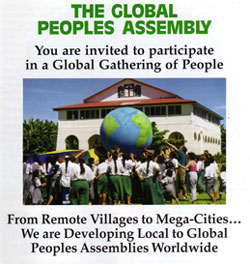 The United Nations
Assembly Movement
How It Began - Timeline Highlights
New Research Programme on Global Democracy Established
Senate of Argentina declares support for the creation of a UN Parliamentary
Assembly
Global Assembly Dialogue
Ongoing Participation Welcome!
UN DPI/NGO
GLOBAL PEOPLE'S ASSEMBLY MOVEMENT TACKLES CLIMATE CHANGE - UN Correspondents Club
THE PEOPLE'S MOVEMENT
THE VOICES OF THE PEOPLE
IN GLOBAL DECISION-MAKING
By Susan J. Zipp
10 STEPS TO CREATE A
LOCAL PEOPLE'S ASSEMBLY
Truman, Tennyson and the Federation of the World - Harry Truman's favorite poem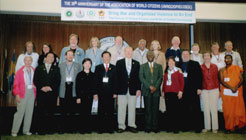 Association of World Citizens
Association of World Citizens Blog
CULTURE OF PEACE INITIATIVE (CPI)
PATHWAYS TO PEACE
UNITY FOUNDATION
Something earth-changing is afoot among civil society - a significant social movement is eluding the radar of mainstream culture." - Paul Hawken, a social activist living in California, shares his observations of the global grassroots movement for social and political change.
WiserEarth
Serves the people who are transforming the world. It is a community directory and networking forum that maps and connects non-governmental organizations (NGOs), businesses, governments, and individuals addressing the central issues of our day: climate change, poverty, the environment, peace, water, hunger, social justice, conservation, human rights and more. Content is created and edited by people like you.
Vote World Government
Democratic World Government through Global Referendum
The Rescue Plan for Planet Earth
NEW INITIATIVE: Mayors for World Democracy
Gaza Burning, UN Dysfunctional
By Savo Heleta
Writer-South Africa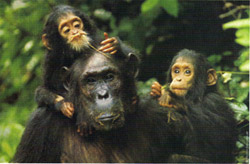 The Jane Goodall Institute